On Monday, February 10th just after midnight Mountain Standard time, I published an article entitled "U.S. Government Could Be Responsible for Hoffman's Death". In the article, I briefly highlighted the history of prohibition in the US. I go on to outline multiple reported cases of the CIA trafficking drugs. Based off these cases, I made a simple inquiry: If the CIA is on record trafficking drugs into the US, how do we know the drugs that killed the popular actor Philip Seymour Hoffman were not trafficked into the US by our own government? An except, pictured below, read:
"The CIA has had a long standing rumor that it is involved in trafficking drugs into the United States. So much so, that they have a section in their official website's FAQ addressing it. So what does any of this have to do with actor Philip Seymour Hoffman's death? Everything."
Apparently, someone did not want that narrative pushed into the blogosphere.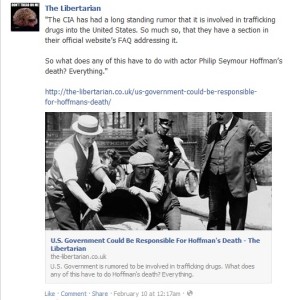 I proudly tweeted on my newest masterpiece and posted it to The Libertarian's official Facebook page. I got some great retweets, a few replies on the Facebook page and the article started to gain traction as the views started to come in. At approximately 2:30 p.m. MST, fourteen hours after my article was published, the site started to encounter some odd issues. The site was completely inaccessible with the message "Error establishing database connection". Within the hour, another columnist for The Libertarian posted to our writer's group commenting on the site's issues. The Editor and Chief was looking into the cause of the site's inaccessibility. I jokingly wrote in the group that the CIA didn't like my story being on the site and took it down. This was an eerie joke to make, looking in hind sight.

Three hours would pass before the site was accessible again. Eager to get the momentum going for my story, I began to whip up a tweet to accompany the link. It was during this process I discovered that my story was gone. Completely gone, deleted, removed. The only thing left that would show my story ever existed on that site is a dead end URL with the title of the story in it. It even had no trace of itself on the backside of WordPress.  A shell of its former self.  To top it off, my story was the only published article deleted. All of the other writers confirmed, none of their stories were missing, just my one story.  How can this be, what happened and who would or could do this?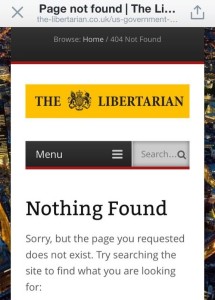 I immediately contacted my editor and asked what the hell happened. He was still searching for answers. He went to sleep with the site still being down and woke up to my frantic messages. "Who has the permissions that could delete my story?!" No one, he would explain, only the editor and the original writer can delete a story. "And I certainly didn't do it!" he exclaimed. Thinking that the site inaccessibility and my story vanishing couldn't have been a coincidence, I started to dig. The error on the site is indicative of many issues but one in particular caught my eye. This error often coincides with the website being hacked. Even more intriguing is that this type of hack is specifically used to gain access to usernames and passwords. At this point, to say my blood pressure was elevated is an understatement.
The Libertarian website was inexplicably taken offline for approximately 3 hours.
The cause of this error is indicative of a hack.
No other story was publish in between mine and the site going offline.
When the site came back online, my article was the only one missing.
This is where I need the Libertarian community's help. I need answers and support. If this was indeed a hack used specifically to target my story, who didn't want the narrative out that the US Government may be responsible for a movie star's overdose? Who did not want me saying that the drugs the CIA traffics into this country, on record, may have been the drugs that killed that man? Who wants to shut me up and sent a clear message of their intentions? If they can hack our site and delete my story, what can't they do and who else will the do it to? Could it be you next time?
Whoever you are, I know you are watching now. Listen closely. You will NEVER shut me up. In fact, I am revising that story you deleted and it's going to be even more implicating and dynamic than before. You just threw a whole bucket of gasoline onto my flame for freedom. Coming soon: "Hacked and Deleted: Article Someone Didn't Want You to See - Part 2″.
Follow me: @SlavLibertarian