House Resolution 3008 passed without much hesitation, resistance or media coverage on Monday by a margin of 367 to 27.  The bill granted The White Lotus Foundation a transfer of five acres of federal land, located in the Los Padres National Forest, in an exchange or sale. The White Lotus Foundation is a 501(c)(3) religious organization focused primarily on the training of yoga instructors.
The White Lotus Foundation currently owns a small amount of land within the national forest, just north of Santa Barbara. Trouble started for the foundation when they were notified by Forest Service that some structures built were on Federal land without authorization. Instead of being forced to remove the structures from the National Forest, the House of Representative authorized The White Lotus Foundation five acres to exchange with or buy from the Federal Government. According to The Hill: "A report on the bill from the House Natural Resources Committee says the foundation is only accessible by one road, and that without access to additional land, it would have to cease operations."
The White Lotus Foundation does have some powerful and influential individuals with a vested interest in the foundation. According to the foundation's Wikipedia page: "The Board of Trustees and Advisory Board feature many individuals prominent in their fields, including professor David G. White, Ph.D., doctor Hyla Cass, MD, and the musician/songwriter Sting."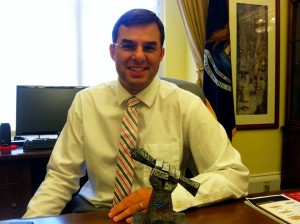 Representative Justin Amash, who voted No on the resolution, expressed his opposition on his official Facebook page: "This bill earmarks benefits for one private organization by requiring the Forest Service to transfer the land to White Lotus through either exchange or sale. Notably, the Forest Service is strongly opposed to the bill because it will "serve only a small, select group of citizens—the White Lotus Foundation, and because it will set a precedent for resolving other encroachment cases in Los Padres National Forest."" A commenter replied to Mr. Amash's post asking "Do most reps. Just vote yes on bills they don't know/care about or what?" to which the Representative simply replied "Yes".
On Januray 28th, the Senate's Committee on Energy and Natural Resources received the bill and will make its recommendation soon. The Senate is the last stop before it reaches President Obama's desk.
Follow me on Twitter: @SlavLibertarian