The United States Government could be responsible for Philip Seymour Hoffman's death. Hoffman, a popular American actor, overdosed on heroin in his New York apartment two weeks ago. While each death is tragic, it is not particularly uncommon for drug addicts to meet such a fate. The "War on Drugs" is a disastrous failure, producing minimal results and leaving US taxpayers with an annual 51 billion dollar bill.
Not unlike the alcohol prohibition in the early 20th century, criminals control the drug trade leading to inflated prices, zero regulation and unchecked violence that claims thousands of lives a year. What would make the US Government think that drug prohibition would be more successful than alcohol prohibition? Or did the government position themselves on the winning side this time?
The CIA has had a long standing rumor it is involved in trafficking drugs into the United States. So much so, they have a section in their official website's FAQ addressing it.  According to Ryan Grim's book This Is Your Country On Drugs: The Secret History of Getting High in America: "Since at least the 1940s, the American government has organized and supported insurgent armies for the purpose of overthrowing some presumably hostile foreign regime… All of these and other U.S.-supported groups profited, or still profit, heavily from the drug trade."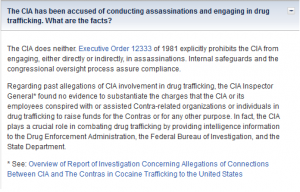 Doctor Ron Paul, a long standing opponent to the War on Drugs, expressed his concerns during the 1988 Presidential election. "The CIA was very much involved in the Iran-Contra scandals. I'm not making up the stories; we saw it on television. They were hauling down weapons and drugs back." Statist Democrat John Kerry acknowledged the crimes as well: "There is no question in my mind that people affiliated with, or on the payroll of, the CIA were involved in drug trafficking." Mexican President Felipe Calderon stated: "It is impossible to pass tons of drugs or cocaine to U.S. without some grade of complicity of some American authorities."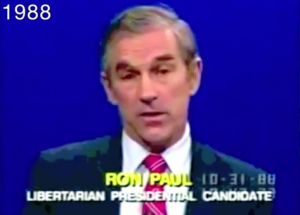 In eerie similarity to Iran-Contra, the "Fast and Furious" scandal uncovered the ATF's operations that shipped thousands of high powered weapons, including assault rifles and hand grenades, to Mexican drug cartels.  This was a highly visible and clear example of government entanglement with drug trafficking.
An excellent article published by Alex Newman for The New American highlights numerous reported cases of CIA and other agencies drug trafficking:
Chihuahua state spokesman Guillermo Terrazas Villanueva told Al Jazeera that the CIA and other international "security" outfits…try to control and manage the illegal drug market for their own benefit. Another Mexican official…echoed those remarks, saying he knew that the allegations against the CIA were correct.
Former Head of DEA, Robert Bonner, accused the American "intelligence" outfit of unlawfully importing a ton of cocaine into the U.S.
New York Times piece entitled "Anti-Drug Unit of C.I.A. Sent Ton of Cocaine to U.S. in 1990." Inspector General Frederick Hitz concede to a congressional committee that the CIA has indeed worked with drug traffickers and obtained a waiver from the Department of Justice in the 1980s allowing it to conceal its contractors' illicit dealings.
Reporter Gary Webb uncovered a vast CIA machine to ship illegal drugs into the U.S. to fund clandestine and unconstitutional activities abroad.
CIA and DEA insider Phil Jordan, meanwhile, publicly claimed last year that the Obama administration was selling military-grade weaponry to the deadly organization through a front company in Mexico.
Numerous drug bosses and American officials have made similar claims, alleging that the U.S. government in essence controls at least some of the cartels.
Another congressional investigation being obstructed by the Justice Department surrounds DEA drug-money laundering operations revealed in an explosive New York Times article late last year.
And the list goes on and on… Reports: CIA Working with Mexican Drug Cartels , Calderon: U.S. Officials Involved in Drug Trade , Mexican Drug Trafficker Says He Worked With Feds , CIA Lies and Other Redundancies , Trafficker: U.S. Feds Aided Mexican Drug Cartel , "Drug Lords" Targeted in Fast & Furious Worked for FBI , Congress Probes DEA Drug Money Laundering Scheme , Outrage Grows After U.S. Drug War Kills More Honduran Women, Children , Obama Backs Mexico's Failed 'War on Drugs' , The Other Unconstitutional War , Feds Purposely Keeping U.S. Borders Wide Open, Experts Say , CIA Has Become "One Hell of a Killing Machine," Official Says , CIA Agents Involved in Peru Homicide of American Woman and Baby Given "Slap on the Wrist" , Liberian War Lord and Dictator Worked With CIA (All Credit to Alex Newman and The New American for compiling the above list)
So what does any of this have to do with actor Philip Seymour Hoffman's death? Everything.
The CIA and other agencies are on record, over and over, traffic drugs into the United States. Considering that fact, how do we know that the drugs that killed Hoffman were not shipped in by the U.S. Government? If the drugs that killed Hoffman were trafficked by the U.S. Government, that makes the government just as liable for his death as the drug dealers that sold it to him.
Sure, I believe in self-ownership as much as the next person. No one held Hoffman down and shoved the needle in his arm. However, by first making drugs illegal, creating a black market and then selling drugs at extremely inflated rates to fund illegal operations, the U.S. Government set up the conditions for Hoffman and so many other individuals to die an untimely death.
End the "War on Drugs".
Start the "War on Criminals Without Our Government".
Read Part 1 Here - Follow Me: @SlavLibertarian