A feminist approach to 'Blurred Lines':
"Britain needs to ban 'Blurred Lines' immediately. How can we continue to allow people to be exposed to these horrific noises in the public spaces they choose to occupy?! The good people of Britain need to be protected from the vicious, demeaning lyrics in this song. It is not enough to ban myself from hearing lyrics that I feel might possibly incline me towards sexual harassment, but I also think it important to ban others from hearing something that offends me.
Why am I so deeply offended, you might ask. Well, in this song Robin Thicke clearly promotes the opinion that rape is okay! I mean, what other meaning could you possible take from, 'the way you grab me, might wanna get nasty'? I mean, it's not as if the word 'nasty' has any other implications when used sexually or otherwise. He couldn't mean that he simply wants to take things to the next level with a woman. The word 'nasty' has never been used to indicate a heightened level of sexual attraction between two individuals, with neither of them having any intentions of raping the other. No, 'getting nasty' can only mean he wants to rape her. How could you Robin?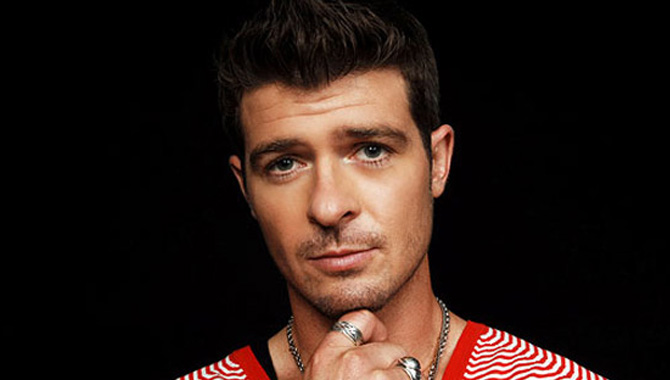 He follows up his devious confession by saying 'go ahead, get at me'. I mean, I accept that normally in rape the rapist has to approach their victim, but it is obvious in this case that Robin's innocuous plea for the woman to approach him is actually a subtle, devious rape-laced-scheme to bring her into Robin's shady clutches. It couldn't possibly be that he is inviting her to a more intimate level of sexual contact, if she should want to approach him. No, he is commanding her to come closer so he can rape her. If she doesn't approach him he'll probably rape her anyway.
Throughout the song is the repeated threat of 'I know you want it'; at least I heard it as a threat. I can almost feel Robin's chilling fingers on my shoulder when he utters these words. I mean, I suppose it is possible that he could say this to a woman in the full knowledge that she does indeed want the countless things he could be referring to. It could be that he thinks he knows that she wants to have sex with him, but will later find himself mistaken and will not pursue the action. But I know better, I know Robin is really saying, 'I know you don't want to have rough, violent sex with me but I'm going to force you to have it with me anyway because I'm filthy Rapey Robin Thicke'.' Who could fail to see his obvious meaning?
Even worse, at some points in the song Thicke has the audacity to call me a 'good girl'! How dare he use sure vile, negative and degrading language? I mean, I suppose half the sentence is just factual; when he says 'you're a good girl' at least the 'girl' part of that sentence is true. So I can't attack him for calling me a girl, however much I'd like to (I don't enjoy having that fact pointed out to me too often). But the part that I really feel degrades me is when he describes me as good. When he says 'good', what he means is that I am good only for his uses, and what he wishes to use me for is obviously rape and sodomy. How do I know this? I can just tell. It wouldn't be the case that Robin would be using the word 'good' in its most widely used and accepted form, to express something objectively positive, say, about my personality or about the way I look. No, it is beyond doubt that when he says 'you're a good girl' he means I'm a good girl for him to rape.
You might ask me why any of this bothers me anyway. It's not as if somebody saying something thousands and thousands of miles away actually has any impact on me whatsoever. It's still against the law to rape people and in all likelihood I'll probably never meet Robin so he won't have the chance to rape me, but I have my reasons. I don't think people should but allowed to say, nor for that matter, think, things that offend me, whatever I choose that to mean. Can't you see we need to protect the people!"
This article is ridiculous, because the subject of this article is ridiculous. If you choose to be offended by 'Blurred Lines', it is your own fault and in all likelihood you share the sexist attitudes you claim to be against. As a libertarian, who believes all people have equal natural rights, I am against sexism. But 'Blurred Lines' is not sexist.